NFA ARMS
10 S. Central Ave.
Fairborn, OH 45324
What you must do when ordering online:
Email us at :
ffl.transfers@gmail.com


With the following info:
Name
Phone number
Email address
What you are having shipped to us
Who it is coming from
Tracking number when available

Shipments must go to our physical address:

10 S. CENTRAL AVE, FAIRBORN, OH 45324
All transfers are now $5each !!! . Generally, no more than 1 handgun transaction every 5 days.
Shipments that go to our PO BOX will be refused, and returned to sender, as we cannot accept guns delivered on base.

We accept shipments from FFL Dealers and private individuals
Private individuals must send us a color copy of thier driver license with the shipment and send the shipment "Adult Signature Required" . Private Individuals not following this rule WILL have packages rejected.

If you are shipping from Bud's Guns, they use UPS, and we are a preferred dealer. No need to download our FFL and send it to them, just choose us at checkout or in your Bud's profile.

Non-NFA tansfers left over 30 calander days will be considered abandoned if you do not reply to emails or phone calls and will be returned to the shipper, when possible.
All other FFLs or individual shipping us a firearm will need a copy of or FFL licence, it can be downloaded by right clicking the link below
:

Click Below to download our FFL/SOT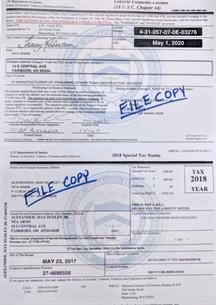 Important notice to our customers:

An unrelated store (OAKLEY ARMS) is using the name "NFA-ARMS LLC" on their FFL license.
They have NO relationship with us; they DID NOT purchase us or our registered trade name "NFA ARMS" .

We have been in business since 2011 and always will be "NFA ARMS".

Always check to make sure the shipping address is 10 S. Central Ave, if you are shipping to me.